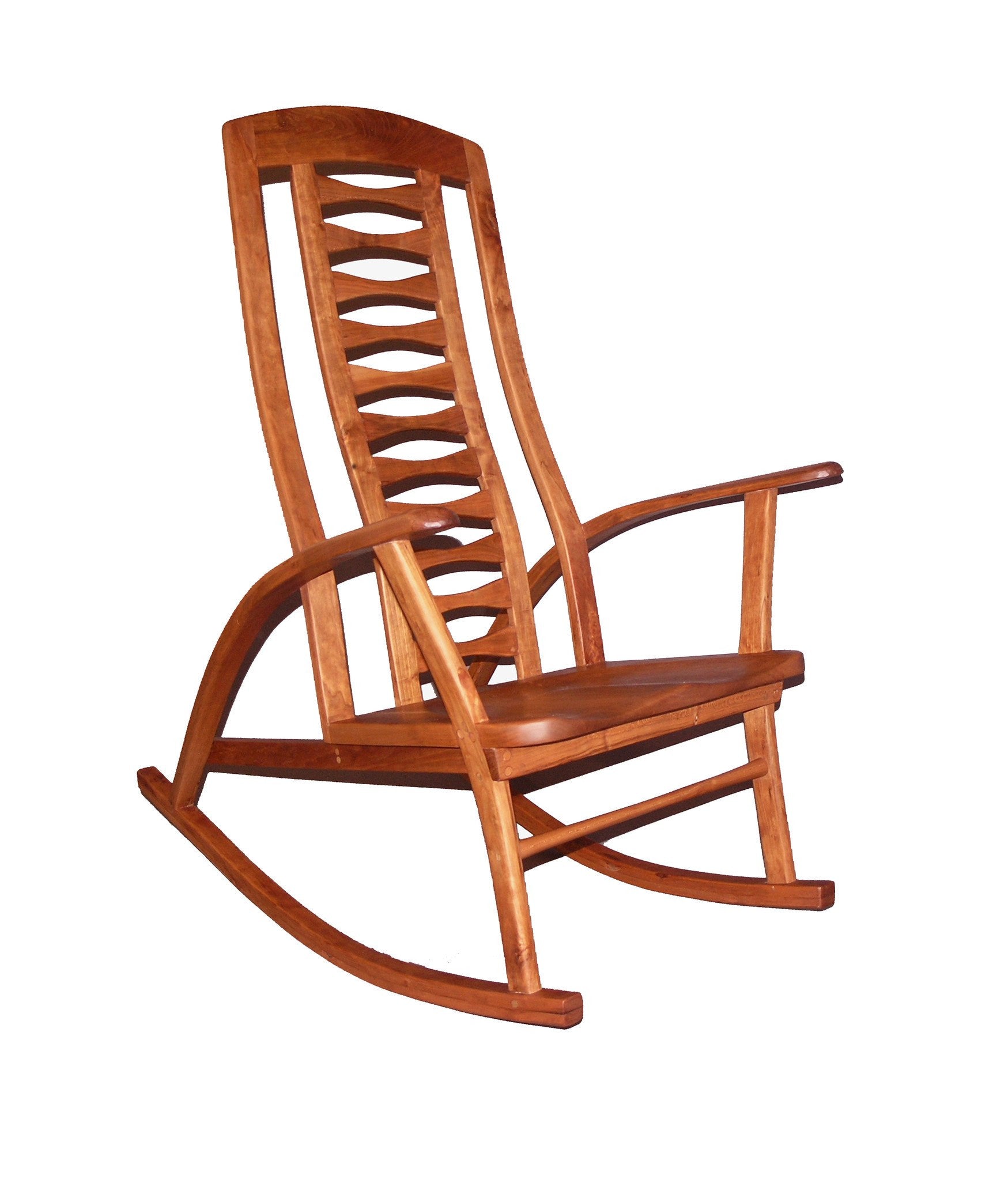 Custom Knitting Rocking Chair Solid Wood Handmade
Description

This rocking chair was commissioned from the client as a custom fit chair to be used specifically for the purpose of knitting. The chair was made almost exclusively with hand tools. The client specified several design styles and rocking chair attributes that she preferred and we were able to design a perfect rocking chair to fit her needs. This item was also made using our unique chair fitting methods, this item was built as a truly unique piece to fit the customer perfectly.

Wood And Finish Options

We believe believe that wood should never be stained. Every item that we meticulously handcraft is made using 100% solid wood, in the species of wood that you select.

A Walnut item will be Solid Walnut Wood, not muddy walnut colored chemical pigments applied over a cheaper material.

Our Primary finish is our Proprietary Organic Blend of natural Oils and Waxes. We do not add any chemicals, thinners, pigments or metallic driers to our finish. In fact, our finish is actually made using 100% food grade ingredients!

On heavy use items, such as dining tables, we use a hard coating finish that has zero-VOC content and is certified for food contact.

You may at any point speak with us to select a different finish or to ask questions and get answers.

Shipping

We know buying furniture from TY Fine Furniture is a long term investment and that our customers want their items on time and in perfect condition.

We want the best experience for all our customers. Because of this, we have developed a shipping process that results in consistently excellent results.

Currently, all items are designed to be lightly disassembled for shipping. This means that there is some light assembly involved with most items. Most items it means attaching the legs, on beds its a little more complex, but still very simple.

By lightly disassembling every item, it also means that you can easily and quickly move the individually boxed parts into your room with ease, our target for each box is a maximum weight of 75 lbs. Every individual box is sized to go through smallest elevator and around tightest corners.

Our average bed frame takes 30-45 minutes to assemble, our customers are always elated about how easy it is, and how sturdy and durable the resulting furniture becomes.
Handmade in Columbus, Ohio
Made to order- Ships in as little as 4 weeks!
Shipped in as
little as 4 weeks!
100% MONEY BACK
GUARANTEE