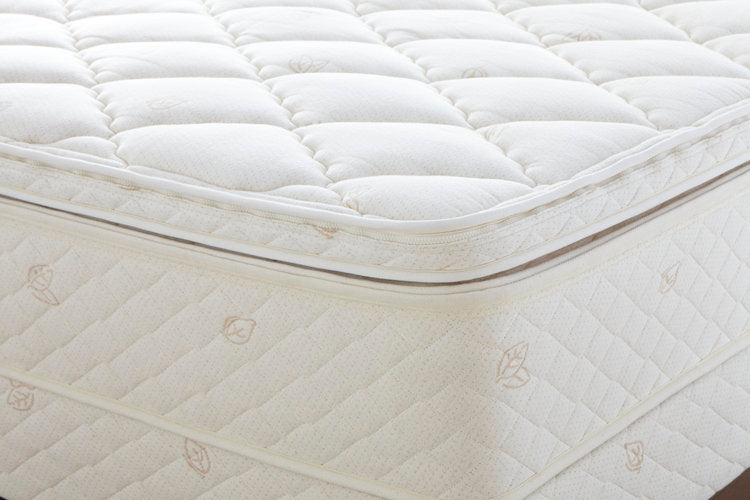 TY Sleep Luxury Topper
Description

Necessary Luxury: A revolutionary topper Design Design.

1" Natural Latex, Wool and PosturFlo Coils Topper
T $750 ~ F $1050 ~ Q $1065 ~ K $1390

Necessary Essential Luxury: A revolutionary topper Design Design.

Why not retire in the evening to First Class. Love yourself with some end of day "self care".  Them you will awake in First Class too.

Ever wake up at 3 am and just cant fall back asleep? You are not alone. Our culture is full of uncertainty, and the numbers of restless sleepers has more than doubled. From 3am to 7am you achieve the most REM sleep. This is the sleep in which we dream. Studies have proven that this sleep is essential for processing difficult emotions (such as grief), managing complicated situations, and developing creative solutions (the ones you remember in your morning shower)  In other words, this sleep is essential for mental and emotional health. We have created a topper that is in a performance category of its own. The key ingredient is the micro coil base. These coils add lift to the softness for back sleepers eliminating hammocking while enhancing elasticity to reduce shoulder and hip pressure for side sleepers. 

At TY Sleep, we build our products with the finest Oeko Tex certified components.

If you tried a pillow top mattress and loved it until it quickly sagged, your in luck. We believe the pillow top should not be stitched on to your mattress, but rather be replaceable.  Our 100% natural latex , merino wool and micro coil toppers add a surprising level of luxury and decadent comfort to your mattress for years because of exceptional durrability and quality of each component. The pillow top feel is superior for deeper muscle relaxation and achieving deeper sleep.  While your mattress should last 10 years your topper may last only 5 to 10 years even using the best materials. However, toppers will deflect some wear and extend the life of your mattress.

We build our products with the finest Oeko Tex certified components: Natural Talalay latex produced in the Netherlands; Organic long staple cotton from Germany; and Merino Wool from France; all assembled in the United States to produce a sleep surface providing great temperature regulation, alignment, and pressure reduction. We have added 2500 micro coils/queen from England to add airflow, pressure relief and a truly lifting comfort. The outcome is a better, restful and healthier sleep.



the Posturflo pad offers a new level of comfort and pressure relief. The high coil count and stretch design of the added Posturflo performance layer provide effective weight distribution and the result is an overall luxurious flexible feel.
The open structure of the coil fabric in the Posturflo coil optimizes airflow for enhanced temperature and humidity balance in your sleep environment.

The advantages of our pillow top design


Our pillow top is an independent component. It can be added to your mattress after purchase should you find you want more soft support. It can be removed if you want to change the feel and it can be replaced when it is worn out.
Many consumers have had negative experiences with expensive pillow top mattresses that sag well before expected. Those mattresses use low density polyurethane foam, effectively creating a weak link and reducing the durability of their mattress.
Our Posturflo pillow top features the Posturflo coil later paired with durable natural Talalay latex cushioning that wears well over time and independently from your mattress.



Shipped in as
little as 4 weeks!
100% MONEY BACK
GUARANTEE