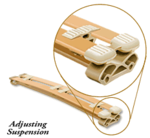 TY Sleep EuroSlat Foundation
Description




FEEL the the EuroSlat Foundation difference

creates individual control of lower back support 

creates individual control of shoulder and hip pressure relief

allows air flow reducing humidity






Twin $500 ~ Twin XL $550 ~ Full N/A ~ Queen $840 ~ King $1100

It just makes sense that you should be able to add support specifically at your lower back and lessen pressure for your shoulder and hips.

Without this control it always risky buying a bed. The good news is that even if you gain weight, loose weight, get pregnant or just don't age as gracefully as you would like to,  your comfort and support can be adjusted with a few adjustments. 

Perfect Posture: Do not compromise your alignment.

Perfect posture and alignment helps facilitate your bodies healing and recovery. We have had hundreds of referrals from chiropractors who tell us how correcting alignment and posture has improved their health and resolved a litany of ailments from headaches to high blood pressure. How much more important is this posture durring sleep, the only time your body heals. Often however, their sleeping posture is compromised and can be a factor in creating misalignment. Perhaps this describes you.

The EuroSlat Foundation:

Control targeted back support and specifically reduce shoulder and hip pressure and facilitates alignment and balance.. 

Flexible and adjustable
Our flexible slat foundation is designed to do more than merely support your mattress—it is designed to support YOU. The curved slats in our foundation provide both suspension and contour for greater comfort and pressure reduction. The slat system is fully adjustable and dual-sided to meet the needs of individual sleepers. The slat suspension was invented in Bremervörde in Germany in 1957 and accounts for the vast majority of bed sales in Northern Europe.

Our flexible slat foundation replaces your box spring and fits in any standard-sized bed frame. Paired with one of our flexible, supportive mattresses, it is an integral part of our system.

An important but often neglected part of the sleep experience is the sleeping climate which describes the temperature and humidity level during sleep. Compared to standard box spring or platform bases, the open design of our slat base enables important air circulation below the bed to create a dry and healthy sleeping climate combating unwelcome guests like mold, mildew, house dust mites that affect breathing and contribute to allergies. Humidity also affects your heart rate which in turn elevates blood pressure and causes shallower sleep.


Durable shocks and adjustors paired with reinforced, cambered beech wood slat


Superior contour and support free of sags
Our flexible slat system is made of individual curved beach wood slats set into high quality rubber shocks that allow each slat to flex and rotate under the weight of your body. The midsection of the system includes six adjustable slat zones with sliding adjustors, which create lift and give support. 

These adjustable zones are set to accommodate the curves of your torso, lifting through the lower back, waist, and knees, while relaxing the shoulders and hips. This not only reduces pressure on the body, it also stabilizes your sleep posture and aides in correct spinal alignment.

Because the flexible slats are dual-sided and built for support, they eliminate excess motion and center sag. You enjoy the feeling of weightless support. The flexible slat foundation is designed to enhance the feel and performance of our mattresses.
Made from natural, breathable materials like organic stretch cotton, natural latex, pure wool, and carbon-steel coils, our mattresses are uniquely elastic and responsive—never stiff or rigid. They are able to transfer the slat system's contour and definition to your body.

Together, these durable and innovative components achieve a unique combination of stability, support, and comfort.

A word from Michael:

In the early 90s we visited European furniture shows and learned of the EuroSlat foundation. What we felt was profoundly ergonomic and so far ahead of our market. This was the experience that turned me from a furniture designer/builder to a mattress geek. We were then selling latex mattresses on stiff wood boards, while in Europe they have been using latex mattresses on slat bases for over 70 years. These slat bases have evolved to be extremely functional. Adding the EuroSlats increases breathability and creates precise and gentle control of support that is in a class of its own.  Since then, as I fit someone to their personal mattress, my joy is seeing the joy of someone feel a mattress that for the first time truly aligns, balances and fits them.
Shipped in as
little as 4 weeks!
100% MONEY BACK
GUARANTEE